Keating Qualifies Rebuilt No. 33 Mercedes-AMG GT3 Fifth at Road America; TeamTGM, Plumb and Trinkler Take Points Lead with Second-Straight IMSA Continental Tire SportsCar Challenge Podium Finish Saturday
ELKHART LAKE, WI. Ben Keating and Mercedes-AMG Team Riley Motorsports rebounded from a Friday practice accident to qualify fifth for today's IMSA WeatherTech SportsCar Championship race at Road America where later on Saturday the No. 46 TeamTGM Mercedes-AMG GT4 of Owen Trinkler and Hugh Plumb finished third in the IMSA Continental Tire SportsCar Challenge race and took the Grand Sports (GS) class points lead.
Keating was uninjured in the heavy contact incident in Turn 8 on the four-mile Road America circuit in Friday morning practice. The Mercedes-AMG Team Riley crew immediately went to work on the No. 33 Mercedes-AMG GT3, which sustained heavy right-front damage, and completed repairs at 4 a.m. CDT early Saturday morning.
The repaired No. 33 was third fastest in Saturday's final practice and Keating then battled in the top five throughout the 15-minute GT Daytona (GTD) qualifying session later that morning.
The fifth-place qualifying run is the second best for Keating and the No. 33 team this season, trailing only the fourth-place effort last month at Canadian Tire Motorsport Park where Keating and co-driver Jeroen Bleekemolen went on to win the race.
Saturday's IMSA WeatherTech Championship practice and qualifying schedule was followed by the IMSA Continental Tire series race that once again saw the No. 46 TeamTGM Mercedes-AMG GT4 step up to post the best result of the seven Mercedes-AMG Customer Racing entries competing in the two-hour race.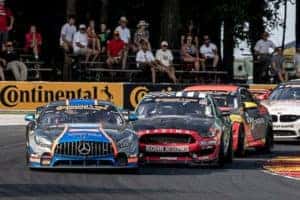 Starting driver Trinkler dodged some major bump-and-run contact incidents that sidelined more than one competitor to handoff the No. 46 to Plumb at mid-race.
Plumb in turn survived some close calls of his own and moved into third place in the closing minutes of the race when more attrition sidelined some of the race-leading competition.
The third-place showing was the second-straight podium result for
Trinkler, Plumb and the No. 46 team after winning two weeks ago at Lime Rock Park. That victory – the first for the Mercedes-AMG GT4 in North America – and today's podium showing have moved the No. 46 team and drivers to first in the IMSA Continental Tire top-tier Grand Sport class championship standings.
With three races remaining on the 2018 IMSA Continental Tire series schedule, Trinkler, Plumb and the No. 46 team unofficially have 191 points, one ahead of the nearest competitor.
The No. 46 was joined in the top-10 in Saturday's IMSA Continental Tire race by the No. 56 Murillo Racing Mercedes-AMG GT4 of Jeff Mosing and Eric Foss that finished on the lead lap in eighth place.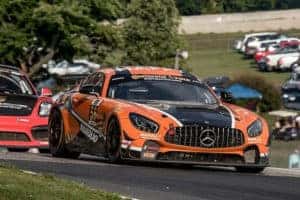 Round 7 of 11 GTD races on the 2018 IMSA WeatherTech Championship calendar, Sunday's featured Continental Tire Road Race Showcase featured event starts at 1:35 p.m. CDT. The two-hour and 40-minute race was preceded by a 20-minute final warmup session earlier on Sunday at 8:30 a.m. CDT.
Live coverage of the IMSA WeatherTech Championship Continental Tire Road Race Showcase begins on FOX Sports 1 (FS1) today, Sunday, August 5, at 2:30 p.m. EDT/1:30 p.m. CDT.
Ben Keating, Driver – No. 33 Mercedes-AMG Team Riley Motorsports Mercedes-AMG GT3: "In every 'Rocky' movie he has to get beat a few times before he wins the championship of the world. I feel like I have gone a few rounds in the ring already this weekend and got beat up. I am very disappointed with the accident – it's just one of those things that happens – but the guys on this team do a great job week in and week out. They were here until 4 a.m. switching everything on to the new chassis. Not only did they get our Mercedes-AMG GT3 back together, we were quick in our only practice session. I am happy with being P5 in qualifying. I had a glimmer of hope I could get to the top-three but P5 is good."
Jeroen Bleekemolen, Driver – No. 33 Mercedes-AMG Team Riley Motorsports Mercedes-AMG GT3: "These are always the situations you don't want to end up in but, looking back, it's usually a really cool story. Everybody pulls together, gives it their best, and it shows. I did two laps Saturday morning and we were top-three right away, so it showed the car was in perfect condition after a full-night of work. I think we are in a strong position for the race. This is probably one of the best tracks for the Mercedes-AMG GT3 and one of my favorites tracks in the world. We should be in it for a good result."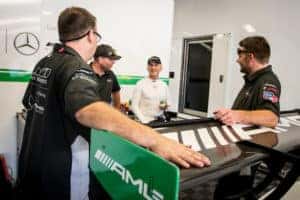 Bill Riley, Team Owner – Mercedes-AMG Team Riley Motorsports: "To get our Mercedes-AMG GT3 rechassied overnight and go right back out and be competitive with no issues is great. It's the hard work, dedication and attention to detail of our team that makes it work. It's also a credit to Mercedes-AMG to build a car that is so repeatable and so able to be put together without much hand work. The Mercedes-AMG GT3 just bolts back together. Our engineer, Tyler Hook, had a great setup before the incident on Friday. We knew we were going to be strong right off the truck, that helped us quite a bit, and knowing what this car wants and our experience here was also valuable."
Hugh Plumb, Driver – No. 46 TeamTGM Mercedes-AMG GT4: "Something good was shining down on us. It was a battle for Owen, a lot of carnage, and I am so happy for TeamTGM and the Mercedes-AMG guys. We were running hot and low on fuel, but the setup stayed under our Mercedes-AMG GT4 and we just kept plugging away. Really, it came down to fuel at the end. I got a fuel-warning light but kept my fingers crossed and we made it. Three races to go and we just have to keep doing what we are doing. We must stay out of trouble – we dodged a bullet today – and staying out of trouble in this really competitive series is what it is all about. Staying out front."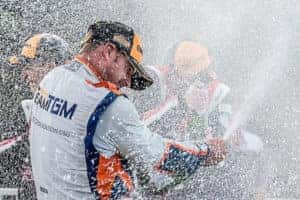 Owen Trinkler, Driver – No. 46 TeamTGM Mercedes-AMG GT4: "We can't thank the TeamTGM guys enough. When you're making championship runs there's certain days that you shouldn't be where you are, but you must keep pushing along. I was in a close incident early in the race, Hugh was in another close incident that could have taken us out with a spinning car, but sometimes you would rather be lucky than good. I am just so happy for everybody on the team, for Mercedes-AMG, and we are leading the points now. Hugh and I have to just keep doing our thing, this team keeps chugging along, and Ted Giovanis gives us all of the tools that we need to keep going. I am so happy about that."