Mercedes-AMG GT3 Driven to Victory by AMG-Team Riley Motorsports in 12 Hours of Sebring Debut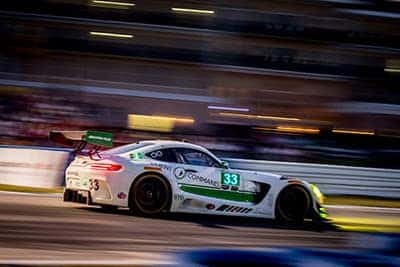 12 Hours of Sebring, Sebring International Raceway, Sebring, FL, March 2017. (Photo by Brian Cleary/bcpix.com)
Sebring. The No. 33 AMG-Team Riley Motorsports Mercedes-AMG GT3 was driven to victory in the 12 Hours of Sebring on Saturday, 60 years after the three pointed star last competed in and won their class America's oldest sports car endurance race. The victory came in just the second race of the 2017 IMSA WeatherTech SportsCar Championship, where Mercedes-AMG Motorsport Customer Racing is competing for the first time.
Co-drivers Ben Keating, Jeroen Bleekemolen and Mario Farnbacher combined to lead a class-high 208 of the 325 laps they completed in the No. 33 AMG-Team Riley Motorsports Mercedes-AMG GT3 on their way to a convincing GT Daytona (GTD) class victory.
Bleekemolen took the lead for good 40 minutes from the end of the race and had a more than eight-second gap on the field when the 12-hour time limit was reached.
Third-place in the GTD class went to the pole-winning No. 75 SunEnergy1 Racing Mercedes-AMG GT3, co-driven by Kenny Habul, Tristan Vautier and Boris Said. The No. 75 team's success put two Mercedes-AMG Motorsport Customer Racing entries on the victory lane podium.
The first and third place Mercedes-AMG GT3 finish in the GTD class ironically replicates the finishing order of the 1957 12 Hours of Sebring, where a pair privateer Mercedes-Benz 300SL entries placed first and third in the GT 3500 class.
While the No. 33 Mercedes-AMG GT3 team had a relatively trouble-free run to victory, the No. 75 Mercedes-AMG GT3 overcame several challenges to make it to the podium.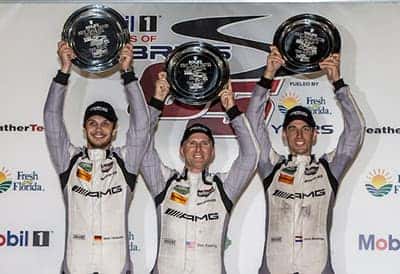 12 Hours of Sebring, Sebring International Raceway, Sebring, FL, March 2017. (Photo by Brian Cleary/bcpix.com)
Vautier won the GTD pole in Friday's qualifying session only to see the team lose the top spot when they were forced to fix a fuel leak discovered in morning warm-up. The No. 75 car missed the mandatory 'call to grid' while working on repairs, relegating the team to start the race from pit lane and to serve a mandatory drive-through penalty.
Driver Boris Said was also assessed a pair of penalties for avoidable contact in the first half of the race but the No. 75 drivers managed to work their way back to the front of the field by the finish.
Next up for Mercedes-AMG Motorsport Customer Racing and the IMSA WeatherTech SportsCar Championship is the Grand Prix of Long Beach, CA (April 7 – 8).
Thomas Jaeger, Mercedes-AMG Motorsport Customer Racing Program Coordinator: "We are delighted to win the 12 Hours of Sebring in what was our first attempt in the 50-year history of Mercedes-AMG and the first appearance of the three pointed star in this legendary race in 60 years. The Mercedes-AMG GT3 has proven itself a major endurance race winner around the world but the challenge of the 12 Hours of Sebring is unlike anything else we have undertaken in the past. The experience of AMG-Team Riley Motorsports and ability of Ben Keating, Jeroen Bleekemolen and Mario Farnbacher provided the talent and experience needed to bring Mercedes-AMG GT3 home a winner at Sebring in our debut IMSA season."
Ben Keating, Driver – No. 33 AMG-Team Riley Motorsports Mercedes-AMG GT3: "I've raced at Sebring many times and I've never even been on the podium. I've been extremely close many times. I've run out of gas on the back straight on the last lap, I blew an engine two years ago with just two laps to go, so I've wanted this one for a long time. It's a special victory for me personally and it's special for Mercedes-AMG since it's the first win for the new AMG GT3 car in the IMSA WeatherTech SportsCar Championship. We finished third at Daytona, so we're batting a thousand in terms of podiums. That's a pretty hard act to follow and we're facing pretty high expectations, but if we keep having flawless races, who knows what can happen for the rest of the season."
Jeroen Bleekemolen, Driver – No. 33 AMG-Team Riley Motorsports Mercedes-AMG GT3: The car was great the whole day – it all went perfect. We didn't have a single issue or a single mistake by anyone. Everyone did a perfect job today, and you really can't ask for more. Even though it's a 12-hour race, it's one of the toughest races there is. To get to the end without issues and with a clean car is a real achievement. To win the race is really amazing. I felt so well in the car every time I drove it. I was really having fun out there."
Kenny Habul, Driver – No. 75 SunEnergy1 Racing Mercedes-AMG GT3: "It was an unbelievable effort for the team. It was nice to get the pole and then we had a fuel leak this morning in warm-up. We had to fix that, which put us at the end of the grid and gave us a drive through penalty. We were down a lap, then up a lap, but we just kept fighting and fighting. Hats off to Tristan at the end of the race, he just drove hard and passed the field one by one. I am awfully thankful to Mercedes-AMG, that car was brilliant. I know when I drove it, I pushed it as hard as I could – I bounced it off curbs, I bounced it off the rev limiter, I broke late, and it just worked all day long. It was an incredibly reliable machine."