Mercedes-AMG Motorsport Customer Racing Teams Run Competitively in Pirelli World Challenge Race at Long Beach, Finish Sixth in GT and Fifth in GTA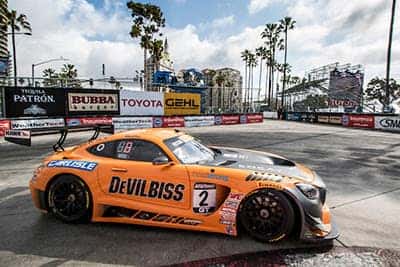 Long Beach Grand Prix, Long Beach, CA, April 2017. (Photo by Brian Cleary/bcpix.com)
Long Beach. Mercedes-AMG Motorsport Customer Racing teams closed out a successful Grand Prix of Long Beach debut weekend for the Mercedes-AMG GT3 with a sixth-place GT finish by CRP Racing and fifth-place GTA-class finish by Champ1 in Sunday morning's Pirelli World Challenge race. Ryan Dalziel started and finished sixth in the GT class in the No. 2 CRP Racing Mercedes-AMG GT3, while Pablo Perez Companc finished fifth in the GTA class in the No. 69 Champ1 Mercedes-AMG GT3.
A third customer racing team also participated in the GTA class in Sunday's Pirelli World Challenge race. Driving the No. 54 Black Swan Racing Mercedes-AMG GT3, Tim Pappas was spun out by another competitor on the first lap of the race. He continued with contact damage but ultimately pulled the No. 54 into the pits and retired just minutes from the end of the race.
The positive Pirelli World Challenge results followed Saturday's breakout one-two Mercedes-AMG GT3 finish in the 100-minute IMSA WeatherTech SportsCar Championship race in Long Beach. Cooper MacNeil and Gunnar Jeannette co-drove the No. 50 WeatherTech Racing Mercedes-AMG GT3 to victory, their first in the 2017 IMSA season, while the championship-leading No. 33 Mercedes-AMG Team Riley Motorsports Mercedes-AMG GT3, co-driven by Ben Keating and Jeroen Bleekemolen, finished second.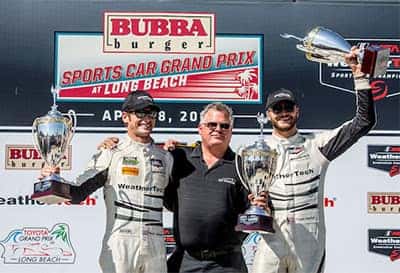 Long Beach Grand Prix, Long Beach, CA, April 2017. (Photo by Brian Cleary/bcpix.com)
The customer racing No. 75 SunEnergy1 Racing Mercedes-AMG GT3, co-driven by Boris Said and Tristan Vautier, also ran competitively in Saturday's IMSA race but didn't have the luck to go with it. A pit stop penalty dropped the No. 75 from contention and to an eventual 15th place finish, but the team did set the fastest GT Daytona (GTD) class lap of the race. Taking over from starting driver Said, Vautier set the quick time of 1:20.206 around the 1.968-mile circuit on lap 50.
The Pirelli World Challenge schedule resumes April 28 – 30 at Virginia International Raceway with the first two-driver GT-X race weekend of the season.
Next up in the IMSA WeatherTech SportsCar Championship is Round 4 at Circuit of The Americas (COTA), May 4 – 6.
Tobias Moers, Chairman of the Board of Management, Mercedes-AMG: "Congratulations to WeatherTech Racing on an amazing victory in Long Beach, and to Mercedes-AMG Team Riley Motorsports for making it a one-two Mercedes-AMG GT3 finish in America's most historic street race. The performance of all of our Mercedes-AMG Motorsport Customer Racing teams in the IMSA WeatherTech SportsCar Championship so far this season has been amazing. To be leading the championship is a great endorsement of our engagement in this extremely popular GT racing series. The IMSA WeatherTech SportsCar Championship is the perfect stage to expose the performance of our Mercedes-AMG GT3 in close collaboration with our professional customer teams and drivers. We are looking forward to the rest of the IMSA season."
Bill Riley, Team Owner and Director – Mercedes-AMG Team Riley Motorsports: "It was great to get the WeatherTech Racing Mercedes-AMG GT3 into victory lane. Cooper and Gunnar did an awesome job and the team strategy was spot-on, just perfect. It got them the win and having the No. 33 Mercedes-AMG car second for another strong points day is just really great. We have a good championship lead and will keep working hard, but it is a different kind of working hard. You're a bit more cautious than you usually are but we have done it before. We will just keep doing what we have done in the past to win championships."
Ryan Dalziel, Driver – No. 2 CRP Racing Mercedes-AMG GT3: "It was a positive weekend for us. We definitely left St. Petersburg a little unsure with the direction we needed to go with the Mercedes-AMG GT3 but this weekend, from the minute we came off the truck, we were good. We missed it a little bit in qualifying, and the nature of World Challenge racing is that qualifying is so important. I think we might have had something for the top five but we got some pretty severe rear diffuser damage at the start and then struggled with rear grip. We are learning with CRP and DeVilbiss, we have learned a lot since the last race, a lot about what the Mercedes-AMG GT3 likes. It's good to have the street races behind us, I am glad we are going to some true road courses because that is where this car will really excel."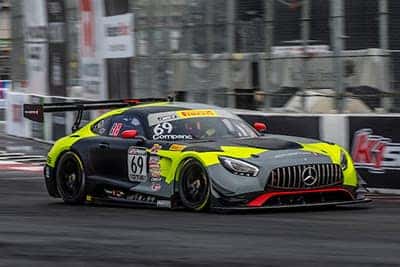 Long Beach Grand Prix, Long Beach, CA, April 2017. (Photo by Brian Cleary/bcpix.com)
Pablo Perez Companc, Driver – No. 69 Champ1 Mercedes-AMG GT3: "It was a really tough track. It was easy to learn it but I really had to push to the limit, but it was a fun weekend. I had a good start but came together with another car and it damaged part of the nose but it was fine during the race. I am looking forward to getting to a permanent road course for the next race and getting some more miles on the car, some more testing."