Three Mercedes-AMG GT3 Teams and Five Debuting Mercedes-AMG GT4 Entries Complete Three-Day Daytona International Speedway IMSA Test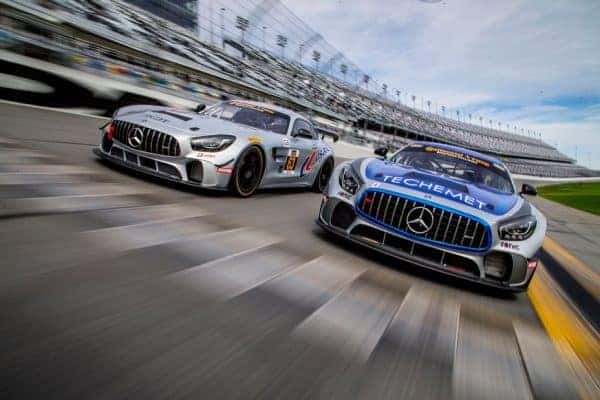 Eight Mercedes-AMG Motorsport Customer Racing teams competing in two different IMSA sports car racing series completed three trouble-free days of testing at Daytona International Speedway (DIS) this past weekend where the first official laps of the 2018 season were turned at the Roar Before the Rolex 24 At Daytona, January 5 – 7. The early New Year IMSA test session was in preparation for the season-opening Rolex 24 At Daytona, January 25 – 28, which features the opening rounds of both the 2018 IMSA WeatherTech SportsCar Championship and the IMSA Continental Tire SportsCar Challenge.
Three Mercedes-AMG GT3 entries tested for the Rolex 24 IMSA WeatherTech SportsCar Championship season opener, January 27 – 28, while five debuting Mercedes-AMG GT4 customer teams went through initial preparations for the first event of the 2018 IMSA Continental Tire Challenge season, a four-hour race at DIS on January 26th.
The Mercedes-AMG GT3 teams competing in the GT Daytona (GTD) class in the Rolex 24 that tested at the Roar included the No. 33 Mercedes-AMG Team Riley Motorsports Mercedes-AMG GT3 that finished third in the twice-around-the-clock race last year at Daytona. The Daytona success helped the No. 33 team and drivers capture the 2017 Tequila Patrón North American Endurance Cup (NAEC) in addition to being a major contributor to Mercedes-AMG winning last year's NAEC manufacturer championship.
Ben Keating and Jeroen Bleekemolen return as the full-season drivers of the No. 33 in 2018, the duo's fifth-straight year together, and will be joined at Daytona by Mercedes-AMG driver Adam Christodoulou for the second-consecutive year. Lucas Stolz is a new addition to the team at Daytona and will also partner Keating and Bleekemolen at the year's three remaining NAEC rounds.
The Riley Motorsports camp has expanded this year to include the No. 75 SunEnergy1 Racing Mercedes-AMG GT3 and lead driver Kenny Habul. Mercedes- AMG drivers Maro Engel and Thomas Jaeger will co-drive with Habul at Daytona along with debuting driver Mikael Grenier. All four drivers lapped in the No. 75 over the three-day Roar test.
Joining the Mercedes-AMG Motorsport customer racing entries at Daytona this year is the debuting No. 71 P1 Motorsports Mercedes-AMG GT3 of team drivers Juan "JC" Perez, Kenton Koch, Robby Foley and Loris Spinelli,. A race and championship winning team in the IMSA Prototype Challenge series, P1 is making both its first GTD and Rolex 24 team starts at the Daytona opener.
Up to 10 new Mercedes-AMG GT4 race cars, competing in the top-tier Grand Sport (GS) class, could be on the grid for the Continental Tire Challenge opener at Daytona later this month. Five of the entries took part in this past weekend's Roar, including a pair of Mercedes-AMG GT4s from Winward/HTP Motorsport.
Russell Ward, his father Bryce Ward and Damien Faulkner tested the No. 33 Winward/HTP Motorsport Mercedes-AMG GT4, which will be co-driven this season by Faulkner and the younger Ward. The second Winward/HTP entry testing at the Roar in preparation for the full season was the No. 3 Mercedes-AMG GT4 of Craig Lyons and Kris Wilson.
TeamTGM is also a multiple Mercedes-AMG Motorsport customer entrant in the Continental Tire Challenge this year and got up to speed at the Roar with co-drivers Ted Giovanis, Guy Cosmo and Owen Trinkler sharing the team's No. 46 Mercedes- AMG GT4. A second TeamTGM Mercedes-AMG GT4 will be added to the team's lineup for the Daytona race.
After debuting in their Mercedes-AMG GT3 last year, DXDT Racing and co-drivers David Askew and Aaron Povoledo have added a Mercedes-AMG GT4 to the team for 2018. Askew and Povoledo took their first ever laps in their new GT4 at the Roar test in advance of their Continental Tire Challenge debut at Daytona.
Veteran Continental Tire Challenge competitors Jeff Mosing and Eric Foss have switched to the Mercedes-AMG GT4 with their Murillo Racing/Mosing Motorsports teammates in 2018. The team took initial delivery of their new car Friday night at Daytona but not in time to enter the DIS garages, which were already closed for the day. Instead, the team worked late into the night at a gas station just across from the Speedway, with the full support of the Mercedes-AMG technical crew from HWA. The team took their new car through an initial shakedown test at a nearby track Saturday morning before finally moving into the IMSA Continental Tires Challenge garages later that day to complete the Saturday afternoon and Sunday portions of the Daytona test.
Next up for Mercedes-AMG Motorsport Customer Racing teams is the season- opening Rolex 24 At Daytona, January 25 – 28, which features the opening rounds of both the 2018 IMSA WeatherTech SportsCar Championship and the IMSA Continental Tire SportsCar Challenge.
Stefan Wendl, Head of Mercedes-AMG Motorsport Customer Racing: "I think we had a very useful test here running three Mercedes-AMG GT3 cars over three days without any mechanical or technical problems. We went through totally different test programs with different cars, supporting the teams and bringing everything in line for the beginning of the season and trying to prepare for the race. Honestly speaking, I gave a little bit more attention to the Mercedes-AMG GT4 teams because this is a new running program and we were really excited to have the first cars here in customer hands. We had five cars at Daytona, with the last car delivered on Friday night and prepared just outside of the track at a fuel station in a great effort by the team with the support of HWA. All of the cars ran without any issues and no technical problems at all. Everything is new, the teams had their own different programs to run through to get the drivers used to the car and we had very positive feedback from all sides. I am looking forward to the race and hopefully we can grow the number of cars."
Thomas Jaeger, Mercedes-AMG Motorsport Customer Racing Program Coordinator and Driver – No. 75 SunEnergy1 Racing Mercedes-AMG GT3: "We had three days of preparation for the race with all four drivers in the SunEnergy1 Racing Mercedes-AMG GT3. We got to know the car, and for Mikael, it was new and the track was new, so that was important. We improved also on setup because we were running to the current BoP and are really heavy. That's why, compared to last season, many adjustments are necessary in order to have the car stable on braking and also in the infield. That was challenging but we made some improvement and in the end it was pretty good handling wise. We have prepared for the race and now we are waiting for the final BoP and hope to lose some weight because that really hurts a lot here, especially on the distance."
Ben Keating, Driver – No. 33 Mercedes-AMG Team Riley Motorsports Mercedes- AMG GT3: "We have always had a very solid team, and we have the benefit in 2018 in having run the Mercedes-AMG GT3 for a year. Quite frankly, there is not that much new to learn, and we are out there trying really small, minor things in trying to gain 2/10ths of a mile-an-hour on the banking. For me, the biggest issue is top speed at this track more than any other place. There are a handful of cars that have way too much top speed, and they can just drive around us on the straights."
Jeroen Bleekemolen, Driver – No. 33 Mercedes-AMG Team Riley Motorsports Mercedes-AMG GT3: "I am really excited to be back again with Mercedes-AMG Team Riley. I think we are one of the better teams here so, even if we are not having the fastest car we might be able to do some good stuff. It is just fun to work with the guys again. We have been together for a long time, and every year it becomes more and more fun. We are looking ahead again to a good season. Hopefully we can have some more wins, and hopefully a win here in Daytona. I haven't won this one yet, but it is not going to be easy. The competition is going to be really strong, also for the entire season, so we don't want to underestimate it. We are all on top of our game, really pushing hard with everything and no stone unturned as we try to get everything out of this Mercedes-AMG GT3 package."
Kenton Koch, Driver – No. 71 P1 Motorsports Mercedes-AMG GT3: "It's a cool experience to drive a Mercedes-AMG GT3 as my first GT3 car and it has been fun. I had never driven a GT3 car before the Mercedes-AMG GT3 and it has a lot of braking capability. The thing stops like no other, comparatively to what I think a GT car would be like. With it being a heavy car, you would think it couldn't do what it does, but it is actually quite a very capable car, under the brakes and putting the power down. We obviously want to go win the Rolex 24 At Daytona. For us as a beginning team we have realistic expectations, but we have put in the work and have the ability to perform with everyone else. We have been equal with every other Mercedes-AMG GT3 team out there this weekend, so we are really happy with how things have been going."
David Askew, Driver – No. 63 DXDT Racing Mercedes-AMG GT4: "I have been driving a Mercedes-AMG GT3 for a year. Based on the experience I have with that car, which is all good, I was anticipating that when I got into the GT4 car, it would look and feel similar and behave similarly. It is very similar, very well balanced and handles very well. Everything looks and feels the same, so I feel right at home when I jump in it. It's a fun little hot rod, sounds bad ass, which is always important, and turns heads. Ultimately it is going to be a real good race car once we get it all up to speed.
Another thing that is great about the car is that we really just put it on the track and ran it. We didn't have to modify it, we didn't have to change anything, and we got in it and went right to work."
Jeff Mosing, Driver – No. 56 Murillo Racing/Mosing Motorsports Mercedes-AMG GT4: "My guys at Murillo Racing get pretty creative and they ended up getting the car off the premises Friday and over to a gas station across the street from the Daytona track where the light was good. They thrashed on it until about Midnight, got it loaded on the trailer and Saturday morning gave it a shakedown on a nearby track just North of Daytona. We still had some stuff to do for IMSA after we got to the Speedway but still managed to get in a lap or two late Saturday. So, the learning process really didn't start until Sunday. We got Eric in the car, worked some things out on the handling, and they all took a look at the data to try and get me up to speed. It's a really calm car to drive, a very stable car, very driveable. I am really looking forward to this year with the Mercedes-AMG GT4, it is going to be a lot of fun."